Contact Us To Schedule Service
Interested in one of our services? Fill out the quick form to your right and we'll be in touch very shortly.
Additionally, you can email us and we'll respond within 24 business hours.
We Offer 5% Senior Discount!
Reliable Sump Pump Services in Cos Cob
Cos Cob and its surrounding vicinity is home to many low-lying neighborhoods that benefit from the flood protection afforded by sump pumps. We here at JNR Plumbing are skilled at providing everything from initial sump pump installation to a host of repair services aimed at keeping these critical systems operating for local property owners. Our company is one of just a few such service providers in this region, and our licensed, bonded, insured, and drug-screened personnel have been delivering excellent workmanship to local customers since 2009.
The Role of Sump Pumps
The term sump pump refers to a pump that's used to remove water from a basement, crawl space, or other low spot. The water collects in a basin or pit that's located at the lowest point within or under the building. This pit is the sump into which the pump is placed. A sump pump is designed to switch on automatically when the water in the sump reaches a predetermined level and then cut off again after the water is pumped out. A sump pump system keeps water from rising into a property's living areas and helps to prevent the damage that even a small amount of floodwater can cause.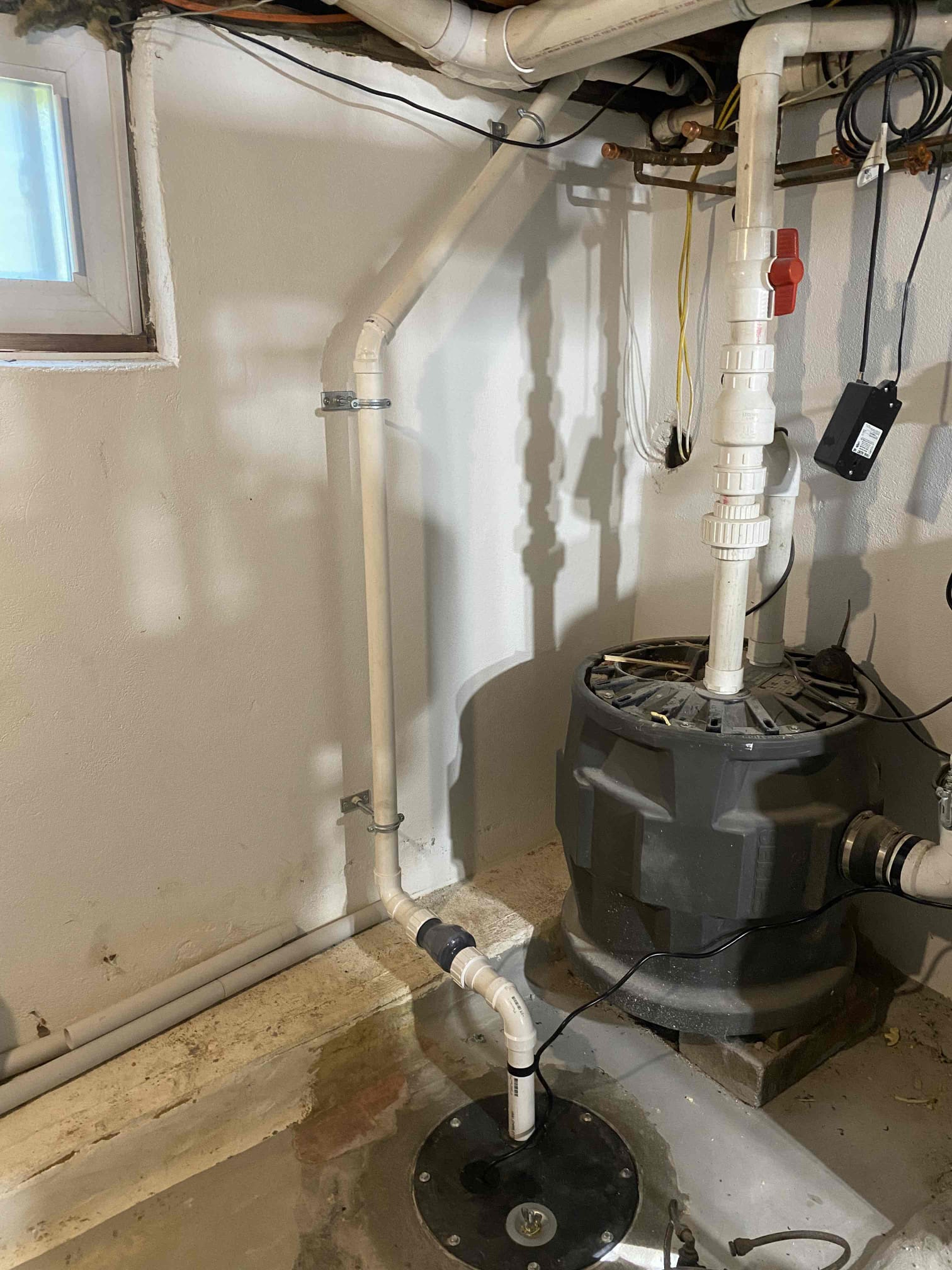 Common Issues That We Address
Sump pumps require periodic maintenance to ensure that their mechanical parts are always ready to function when needed. Our team handles routine sump pump services as well as sump pump replacement for units that are damaged beyond repair. Our professional expertise also includes insulating existing sump pump systems from freezing up in cold weather and installing new sumps and pumping equipment in homes that are currently under construction or in need of new flood protection measures.
Signs Your Sump Pump Needs a Professional Service
If there's a sump pump at your home or business, it should be inspected and serviced on a seasonal or annual basis along with other routinely performed maintenance. A pump that runs longer than usual, constantly switches on and off or has trouble keeping up with the level of water that collects in the sump points to the fact that a sump system may be overdue for attention. Other potential trouble signs include pumps that make strange noises or that are completely inoperable.
Benefits of Professional Sump Pump Services
Dealing with sump repairs can be messy. Serious property damage may also occur if these services aren't handled in a timely manner. You can depend on the crew at JNR Plumbing to provide prompt service and quality workmanship whether we're hired to conduct a seasonal system check-up or more in-depth sump pump repair in Cos Cob, CT. You're also certain to appreciate our five-star customer care and results-oriented approach. In addition, we offer local senior citizens a 10% discount on our services.
Get in Touch With Us
Count on JNR Plumbing if you've been searching for a plumber in Cos Cob, CT who provides comprehensive sump pump services. The reviews from our past customers are always great, and we have appointment times available in your area right now.
Call us or fill out the form to get started on the sump pump solutions that you need. We look forward to working with you.
Our team of expert technicians provide the best plumbing, water heater, and natural gas services in Connecticut. We pride ourselves on offering a variety of services that best meet the unique needs of your property.
We've seen all kinds of specialty plumbing fixtures. And, we've installed them too!
Who better than a trained technician to clear your slow drains and to perform your sewer and drain cleaning.
If you do not think of plumbers when you think of combustible fuels, let us change that.