Contact Us To Schedule Service
Interested in one of our services? Fill out the quick form to your right and we'll be in touch very shortly.
Additionally, you can email us and we'll respond within 24 business hours.
We Offer 5% Senior Discount!
Reliable Water Heater Repair in Stamford, CT
Trust the professional plumber in Stamford, CT, from JNR Plumbing who specializes in water heaters, as well as additional areas of plumbing. We can perform diagnostics and repairs to add years to the life of your water heater. And when the time comes, we can help with water heater replacement and water heater installation.
Importance of Water Heater Repair in Stamford, CT
JNR Plumbing specializes in water heater repair in Stamford, CT. You can be sure that we will provide you with timely and efficient water heater services. The primary reason water heater repair is of the greatest importance is that it can help extend the life of your water heater. The cost of a new water heater is a significant home investment that will negatively impact your savings and disposable income. The longer your water heater lasts the more time you have to save for a new unit. Regular maintenance and repairs are also critical to ensure your water is safe. Poorly operating water heaters and older water heaters can leak toxins, mineral buildup, and more into your water. A finely tuned water heater will also help to reduce water bills and other utility bills to save you money each month.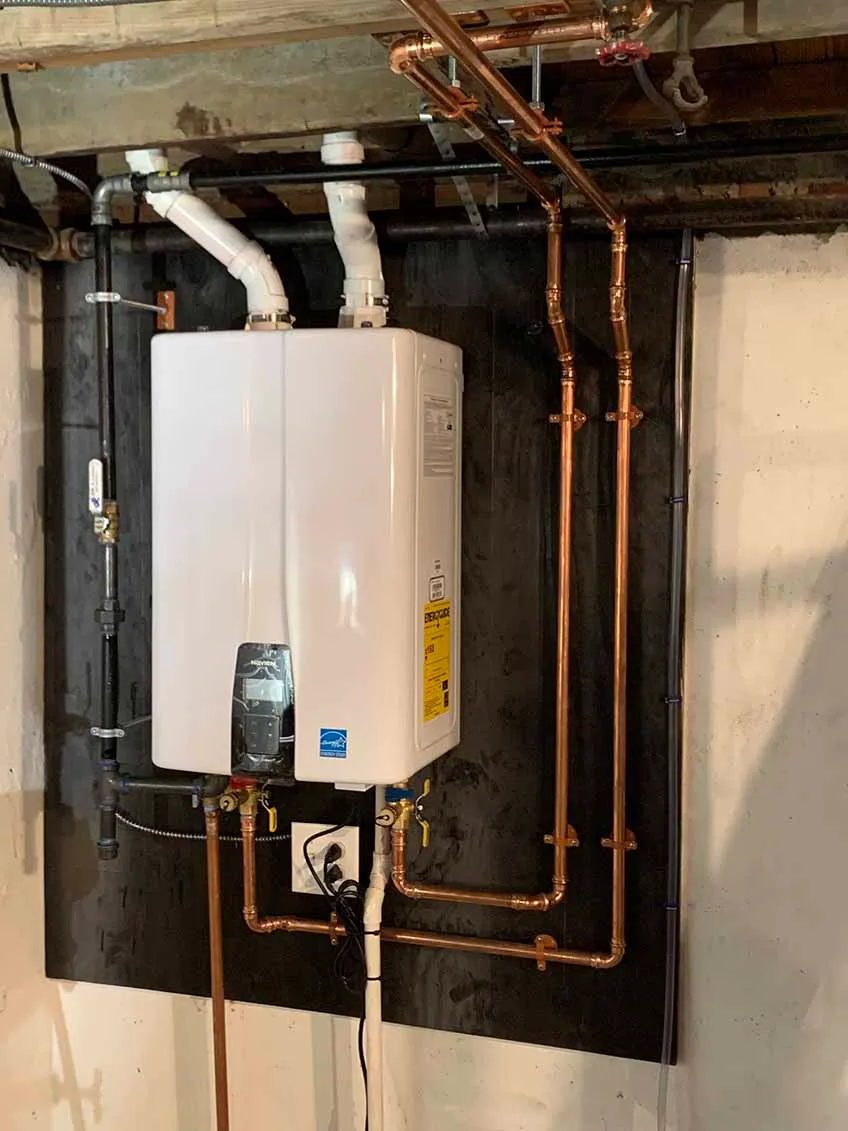 Signs You Need Water Heater Repair in Stamford, CT
If you pay attention, you will be able to notice the signs that indicate you require water heater repair services. Some rather telling signs involve the temperature of the water. If the water does not get hot or the water is too hot or too cold, you likely require a repair or adjustment. When you notice a discoloration in the color of the water or an unpleasant smell is being released from the water, you most certainly require water repair services. And if you notice a leak of any sort coming from the water heater, call us immediately before the damage becomes irreversible.
Replacement and Installation
Our water heater repair services will help add years to the life of your water heater; however, one day, your water heater will stop working in a way that requires a water heater replacement. The good news is that we can help with such services. We will work with you to determine the right water heater upgrade for your needs. Many people today prefer more environmentally friendly water heater options over the large, traditional storage tank. You might consider a tankless water heater for on-demand hot water. It is also possible to select additional green alternative water heaters, such as hybrid electric water heaters, condensing water heaters, and solar-powered water heaters.
Trust Us for Water Heater Repair in Stamford, CT
At JNR Plumbing, we continually work hard to set ourselves apart from the competition by instilling rigorous hiring practices to ensure our plumbing team is second to none. We require that all team members are drug tested, exceptionally well-trained, licensed, bonded, and insured so that both you and our team members are protected. The proof in our 5-star service can be seen firsthand from any of our online reviews. We will also provide a 5% discount to all senior citizens. And as part of our commitment to a quality experience and the ultimate in convenience, you can reach us by phone or online through our website to make an appointment or to send us an inquiry.
Contact Us for Water Heater Repair in Stamford, CT
We provide a wide range of plumbing services in Stamford, CT including plumbing repair, drain cleaning Stamford, CT, and more. Whether you require a diagnosis or emergency water heater repair in Stamford CT, we can help. Call us today to add convenience to your life and longevity to the life of your water heater or fill out our online form to schedule an appointment. We also serve:
Our team of expert technicians provide the best plumbing, water heater, and natural gas services in Connecticut. We pride ourselves on offering a variety of services that best meet the unique needs of your property.
We've seen all kinds of specialty plumbing fixtures. And, we've installed them too!
Who better than a trained technician to clear your slow drains and to perform your sewer and drain cleaning.
If you do not think of plumbers when you think of combustible fuels, let us change that.